In this chapter I will try in english and dansh language, due to the nature of the content.
This chapter is devoted to the SANA Yacht - drawn and constructed by Erik Salander. To the best of my knownledge in the years 1946-1948, some are with Lead-kiel others with Iron-kiel.
Data for Sana:
Lenght: 33´ 10,45m - beam: 2,50m - draught: 1,65m.. She has 38kvm sail and weighs 5,5 ton with 50% in the kiel. Originally she has 4 (four) stays on either side of the mast and 2 (two) forestays - 2 backstays and the heckstay and a strut.
The purpose with this site is to let owners of this boats post photographs and written materiels such as finding origin of boat's and previous owners, to make a history. I will to the best of my abilities help via this site and my Email: tulmann@adslhome.dk to and from owners and previous owners.
Please let this site be a start for celebrating a little know exellent boat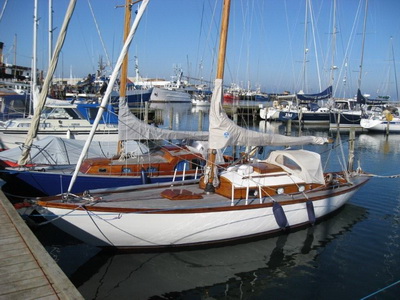 The above Sana is PIL today owned by Nils and her habour is Gilleleje. PIL was former known as Nancie, my father's boat. The Teak-deck and most of the wooden work below deck is my father's work. And she look's exactly like the day my father sold her to a boat-builder in Helsingør, except the color - Nancie was karmosinrød (don't know the english word - dark red perhaps) a color which underlined the her beautiful lines and made her stand out, the waterline was white and below waterline she was green.
For further info and photographs of PIL - please click here
A German owner Peter Kay wants information of a Sana which have had the following names: Oline owned by Knud Erik Borup - Bellona owned by Knud O. Sørensen and Gunnar Andersen, please help....
Another Sana lay in Svanemølle habour in the late 70's and first 80's, can't remember her name but the lastname of the owner was Rosenkilde.
This is what Erik Salander intended with the Sana, it's in Swedish:
And I was contacted by Freddy Iossif Athens Greece with these pictures - Freddy thinks his boat is a Salana and who am I to argue, anyway, this is that Freddy wrote to me:
""I am writing to you from Greece.I happen to own a sailing boat that was made in Sweden in 1959 and designed by Erik Salander.Maybe it is a Sana boat.I am sending you some photos.Her name originally was Salana and was bought in Sweden by a Greek doctor called Mr. Kardiakides, who was married with a Swedish lady.He then brought it to Greece and sold it.I am propably the fourth owner.I have the original plan of the boat with the signature of Salander (Nr.293, Stockholm 1 April 1953)and I think??? that she was named Salana after Salander.The boat went through a complete restoration for 3 years, and fell in the water August 09.She sails georgously.Let me hear your view.""
If Freddy's boat is a Sana or Salana don't take anything away from Freddy's beautiful boat just look at the pictures, they say it all..